TRAVEL TRUNKS
Bring global adventures to your classroom with the Safari Museum Education initiative!
Cultural based, hands on Artifact Travel Trunks may be loaned for four weeks, and the charge is $50.00 plus the cost of  shipping (for current museum members, there is no charge except for shipping). All museum class kits and trunks can be customized to better fit the educators' curriculum. If you have a special subject, call +1 (620) 431-2730 and ask for the education department. To ensure availability, please make reservations as early as possible.
Host a film night at your school or institution and use the trunk for multi-generational family programming.
Loaning a safari travel trunk lets you explore the world through artifacts, books, and films.
School Groups & Adult Tours
Tours of the Museum are conducted by our professional staff upon request with at least TWO WEEKS NOTICE PLEASE. Pre-arranged groups can book tours Tuesday-Saturday, from 10:00 a.m. to 5:00.  We have discounted admissions rates for Pre-arranged Tours as follows:
School Tours: $4 for Teachers and adult Chaperons
Students are FREE thanks to the Johnson Education Legacy Fund
Adult Tours: $4 per adult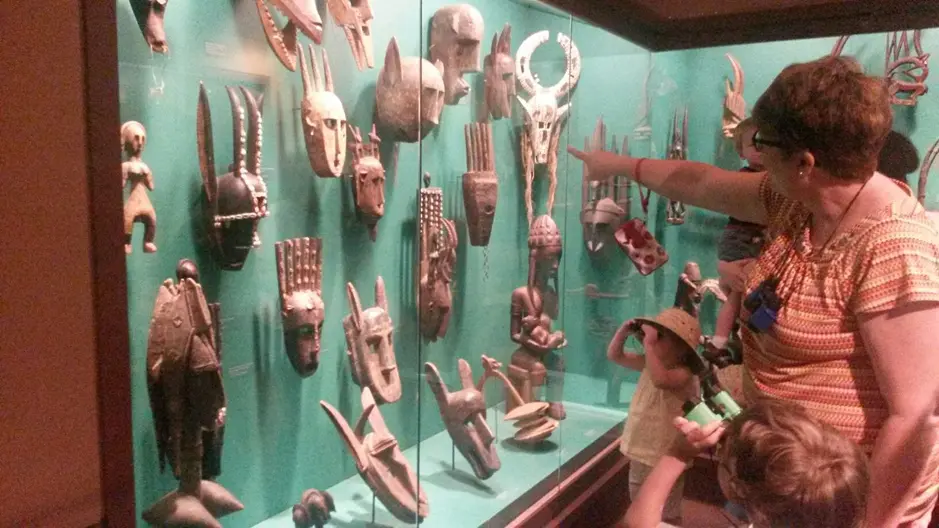 Research
In keeping with our museum's commitment to research and education, we maintain significant resources related to the study of many fields which support the needs of the public and of the museum's collections and programs. The museum is biographical, but our collections span the fields of natural history, photography, ethnographic cultures and art from around the globe.
Public appointments for research opportunities in the museum proper, our Henshall Archives or the Stott Explorers Library, are available Monday through Saturday from 9:00 to 5:00 and Sundays from 1:00 to 5:00. Appointments must be made in advance by calling (620) 431-2730 or by emailing osajohns@safarimuseum.com.
Onsite & Offsite Artifact Presentations to university and library audiences are also available. Our staff can bring out special anthropological artifacts and ethnographic examples for discussion with tour groups, or we can take a select number of artifacts into classrooms and workshops at host sites. Contact the museum curator to learn more about what collection-based programs are available to your organization.
Online access to photos in the collection (in a number of galleries) is also available. Our galleries feature images from the museum's collections, including all the expeditions of Martin and Osa Johnson, plus those of other explorers and images from past special online exhibitions"
Here are examples of our classroom trunks & their artifacts:
Museum staff can also be scheduled to come to your school or organization with any of the trunks & present programs on a number of specialized topics such as Martin and Osa Johnson as famous Kansans, Osa Johnson as a Woman's History subject, African Arts & Cultures, etc.
As a private, non-profit entity, to cover the costs of these educational opportunities we must charge a $75 program fee plus Speaker mileage reimbursement for outreach programs; we are happy to work with groups who are as financially challenged as ours to help them cover these costs. Please call +1 (620) 431-2730 to discuss current program options today!
Take your group on a Story Safari!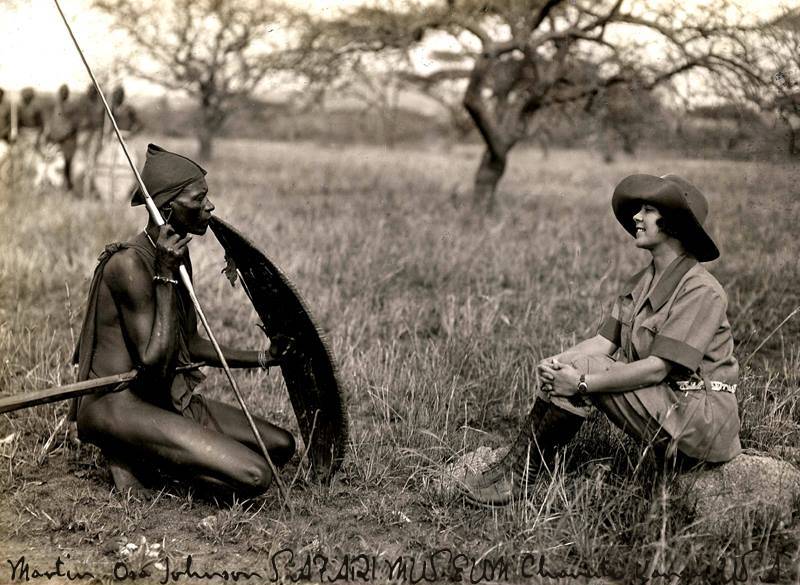 Book Loan Kits & Literature Travel Trunks
The Safari Museum can supply your school or organization with a selection of Johnson adult and children's books for use in-classroom, for Book Clubs & other special Book Themed Events. Kit and Artifact trunks are checked out to one book group or instructor who is responsible for all of the materials. The group may keep the kit for up to 6 weeks.
Available Titles & Book Loan Kit Information
Book Club/Classroom Kits: I Married Adventure
This book is Osa's classic 1940 story of her life of adventure during her marriage to explorer Martin Johnson. It has been translated into 17 languages and has had over 50 publication runs since debuting as an award-winning autobiography on the New Your Best Sellers list.
10 English versions of the paperback version, 1 copy of an original 1940 edition, and a DVD of the film I Married Adventure that starred Osa Johnson and debuted the same year as the book.
ESL Study, Multi-Lingual Book Club & Classroom Kits: I Married Adventure
10 of the Spanish editions of I Married Adventure, copies of several different Spanish I Married Adventure lobby cards, & a copy of the English DVD of the film I Married Adventure. See above for more information on the book.
Children's Book Club Kits: Snowball, No Sir & Teddy Tantrum
These kits come with up to 25 copies of the short children's books Osa wrote in the 1930s Snowball and No Sir and copies of the chapter "Teddy Tantrum" from her "Jungle Series" books. We also include a number of color sheets & activities that tie to the books and a copy of the DVD Congorilla, which has cameo appearances by both Snowball & Teddy Tantrum, the titular heroes of two of the books included with this kit.
CUSTOM LITERATURE-THEMED ARTIFACT TRUNKS
Each of the book kits can be customized to include a variety of hands-on artifacts. Please contact Safari Staff to discuss options to suit your audiences.
Photographs From the Travels of Martin and Osa Johnson
This exhibition includes 70 framed photographs, 2 large wall murals, and 20 artifacts that highlight the amazing lives and achievements of Martin and Osa Johnson.
"Masters in the Field" traces the development of lithographic illustration in the 18th and 19th centuries and highlights the adventurous artists of the day. This exhibition was designed by the Martin and Osa Johnson Safari Museum in Chanute, Kansas, using 48 of its spectacular lithograph collection. The Safari Museum has over 600 hand-painted lithographs and a research library that contains 6,000 volumes, many of which contain similar artwork.
The Art of the Masked Dance
The African masked dance is a storied celebration of art at its most evocative. The masked expression, including headdress, dancer, costume, and ritual accessories accompanied by their traditional musical instruments communicate the relationship between the African people, their physical world, and the spiritual realm. "Changing Faces showcases masks from the African continent with comprehensive text to discuss the complete artistry and significance of the masked expression and its traditional role in African culture.
To learn more about these exhibitions and about ways you could bring them to host sites and special events in your communities or our photo museum, please call +1 (620) 431-2730 or email the Martin and Osa Johnson Safari Museum.