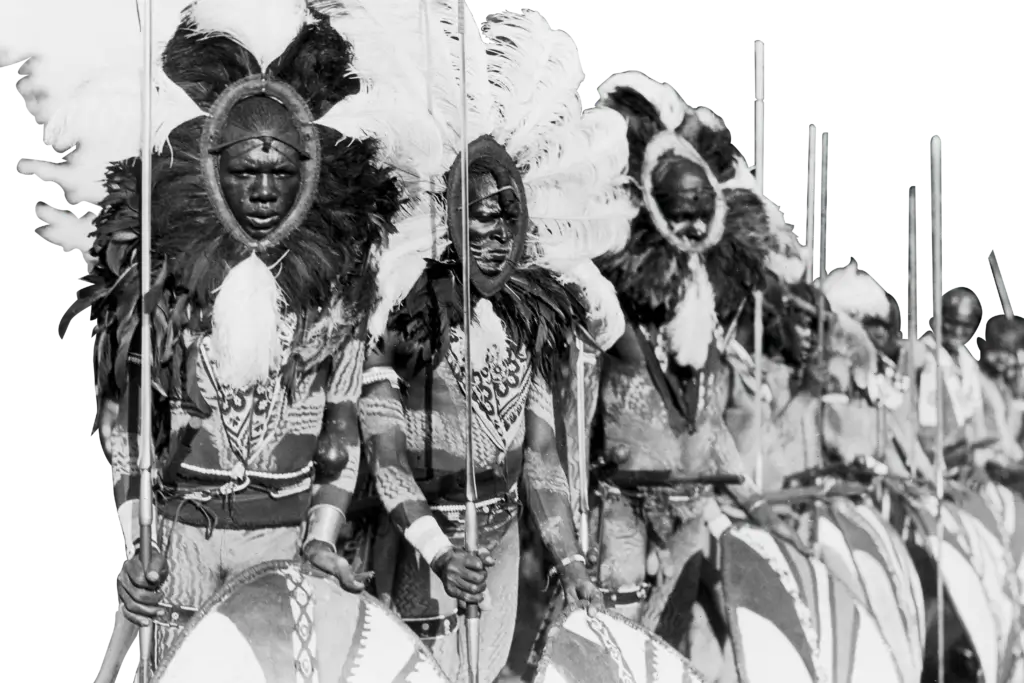 JOHNSON VISUAL HISTORY COLLECTION
In the first half of the 20th century, a couple from Kansas named Martin and Osa Johnson captured the public's imagination through their films and books of adventure in exotic, far-away lands. Photographers, explorers, naturalists and authors, Martin and Osa studied and documented the wildlife and peoples of East and Central Africa, the South Pacific Islands, and British North Borneo. They recorded then unknown lands and, through their films, writings, and lectures, brought back knowledge of cultures thousands of miles away.
In the 1920s and 30s, reading or attending the theater was your passport to newly discovered and previously unimaginable worlds.  Not being independently wealthy, to fund their travels, Martin + Osa produced 20 books, 9 feature films, dozens of shorts and over 15,000 images and miles of the earliest surviving film footage from around the globe.  This collection formed the core of our museum.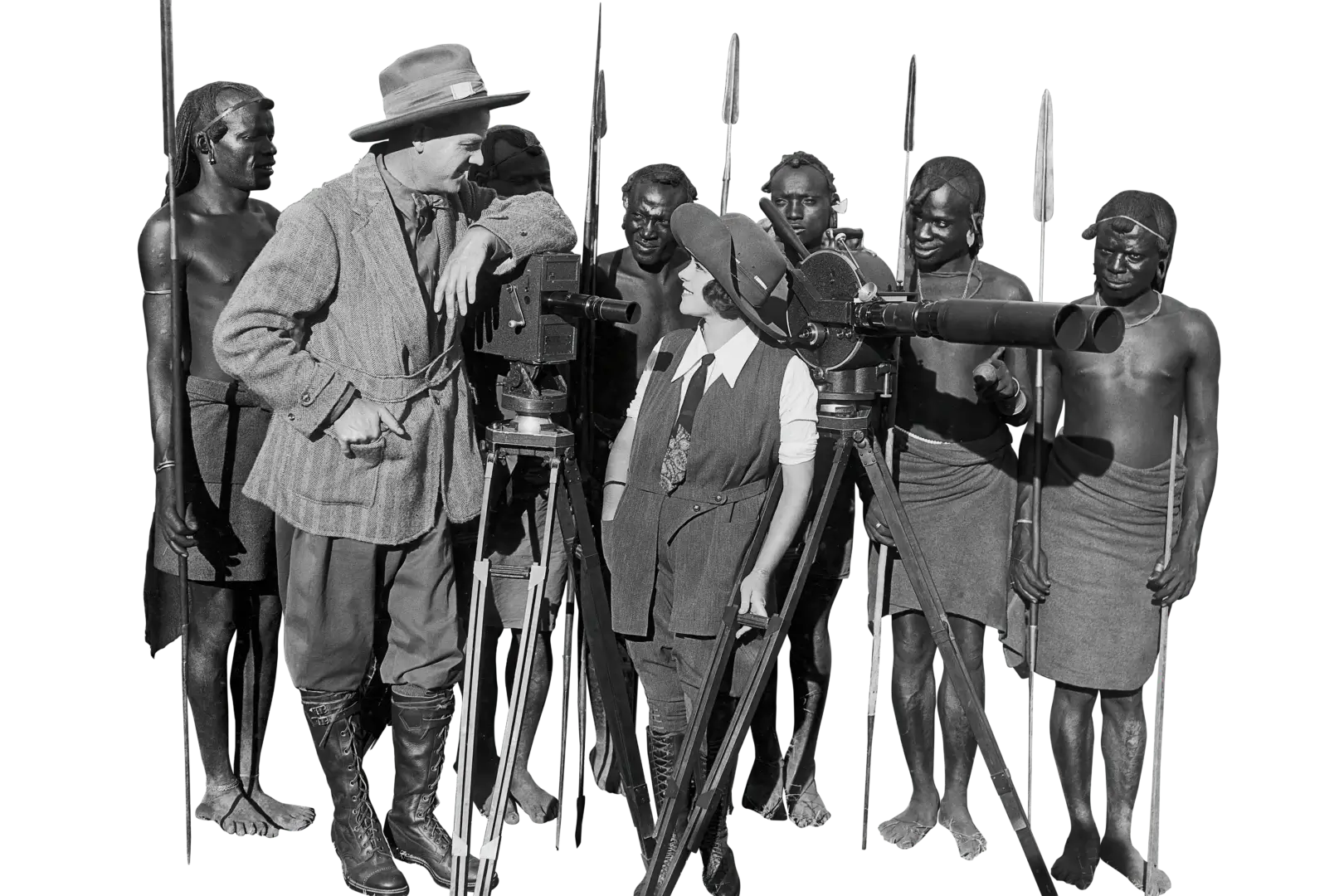 IMPERATO WEST AFRICAN COLLECTION
In 1974 Dr. Pascal James Imperato, a life-long admirer of the Johnsons and friend of Osa's mother Belle Leighty, established the Johnson Memorial Hall of African Culture, an exhibit of West African artifacts that represented more than thirty peoples of a dozen different countries.  The original gift consisted of approximately 100 ceremonial masks and household items that the well-known author and health authority had assembled during years of epidemiological work in Africa.  Thanks to the continued generocity of Dr. Imperato and his wife Elinor, and many more donors inspired by their contributions, the collection has grown to become the largest and finest collection of West African Art in the Mid-West.
Want details on this or other collections? Call +1 (620) 431-2730 or email osajohns@safarimuseum.com.
STOTT EXPLORERS LIBRARY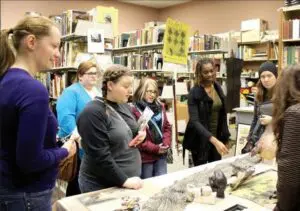 In any institution where research is conducted, a library especially tailored to fit its needs is no luxury; it is essential.  The Stott Explorers Library offers reference material on the same fields of endeavor that form our diverse artifact collection: ethnology, anthropology, exploration, cinematography, conservation, and natural science.
Appointments to our research library must be made in advance by calling (620) 431-2730 or by emailing osajohns@safarimuseum.com.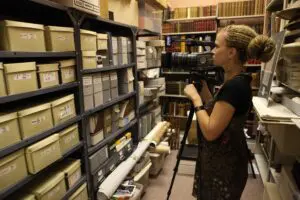 HENSHALL ARCHIVES
Our archive houses the origin story for all our collections, providing context to share the works of the artists as well give voice to indigenous peoples represented.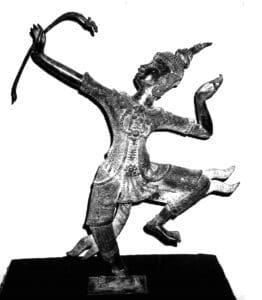 SELSOR FINE ARTS COLLECTION
Founded by Jackson Selsor, and expanded by a number of dedicated supporters, this collection is home to bronzes, paintings, and sculptures that enhance the Visual History and Library holdings.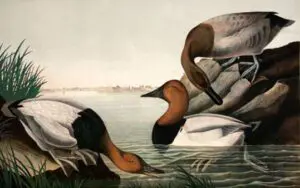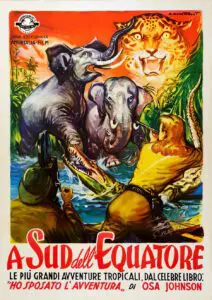 Specialized Collections focused on women pioneers and artists elevate our core holdings through iconic objects that tell the stories of their gender struggles and accomplishments.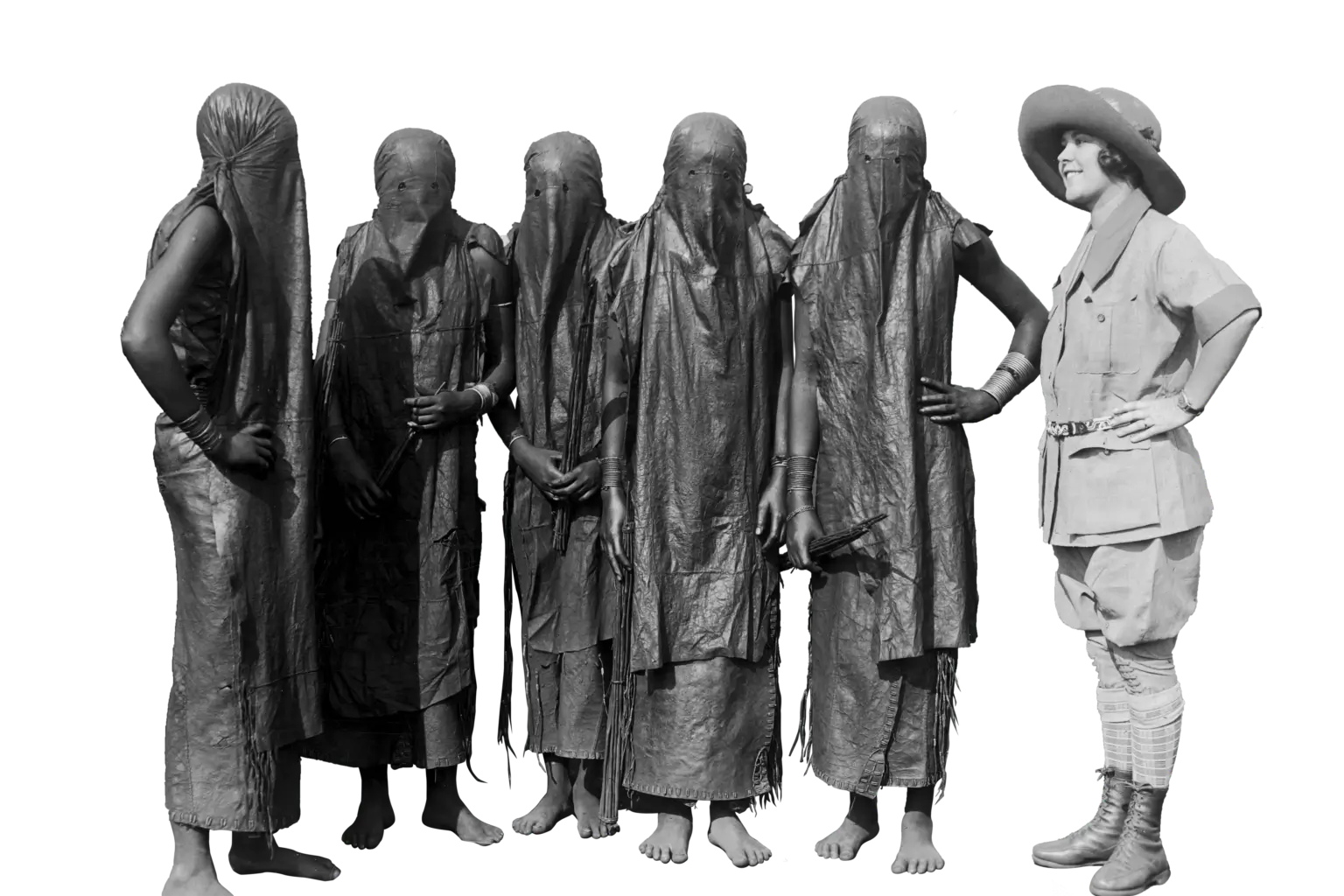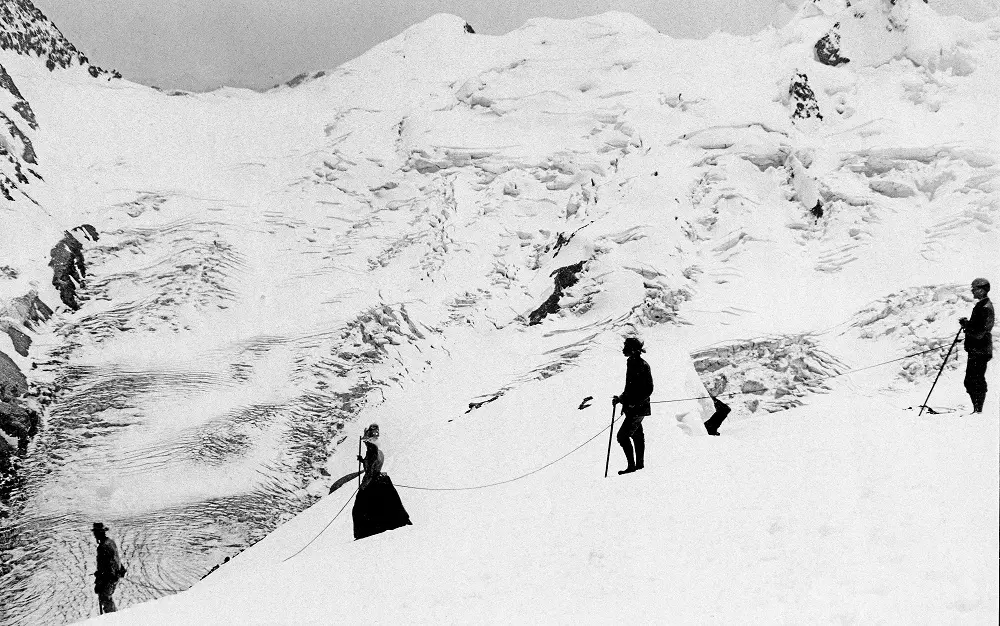 Lizzie Le BLOND Collection
Elizabeth Hawkins-Whitshed Burnaby Main Le Blond. or Lizzie, as she was nicknamed, was an author, mountain climber, and one of the world's first female filmmakers. Lizzie was climbing mountains in Victorian skirts and shooting her extraordinary photographs of stunningly scenic glacial landscapes before legendary nature artist Ansel Adams was even born, and she is credited with producing the very first sports films, covering the fields of hockey, tobogganing and bobsleigh racing.
In 2013, we took responsibility of the care of the single largest known collection of works and archives of this astounding female pioneer. Our primary goal is to preserve this collection so that it is available and accessible publicly on a global scale. Digitization of the 2000 photographs and archives from eight of Lizzie's personal photo albums was accomplished through a Humanities Kansas grant and by contributions of money and in-kind serves by many other businesses and individuals.
The written records Lizzie left were her way to process and document her unique human experience as a female…then a true minority…in fields then, as now, dominated by men. The photo captions she wrote and the reflections she made privately in this collection are intrinsic to the background of the images, but the knowledge of her challenges and successes so long ago could be amazing opportunities for generations now —and for those in the future—to genuinely connect with what came before by sharing her full realm of experiences. This collection was donated to our museum specifically based upon the pioneering works of Osa Johnson, the titular female explorer from the name of our museum.
The donor, a proud Kansan who literally bought the collection to save it from being destroyed, gave it to our organization with the hope that by teaming it with Osa's films and photographs, Kansas could become a repository for the works and archives of inspirational women from many different fields of studies and backgrounds. Osa and Lizzie knew many of the same explorers and adventurers, and their areas of innovation and prominent professional works overlap, but they are also distinctive enough to profoundly enhance the museum's audience reach. Kansas has a rich history of empowering women, and our museum hopes to encourage the continuation of this tradition by preserving and presenting examples of positive individuality across race, gender and social boundaries.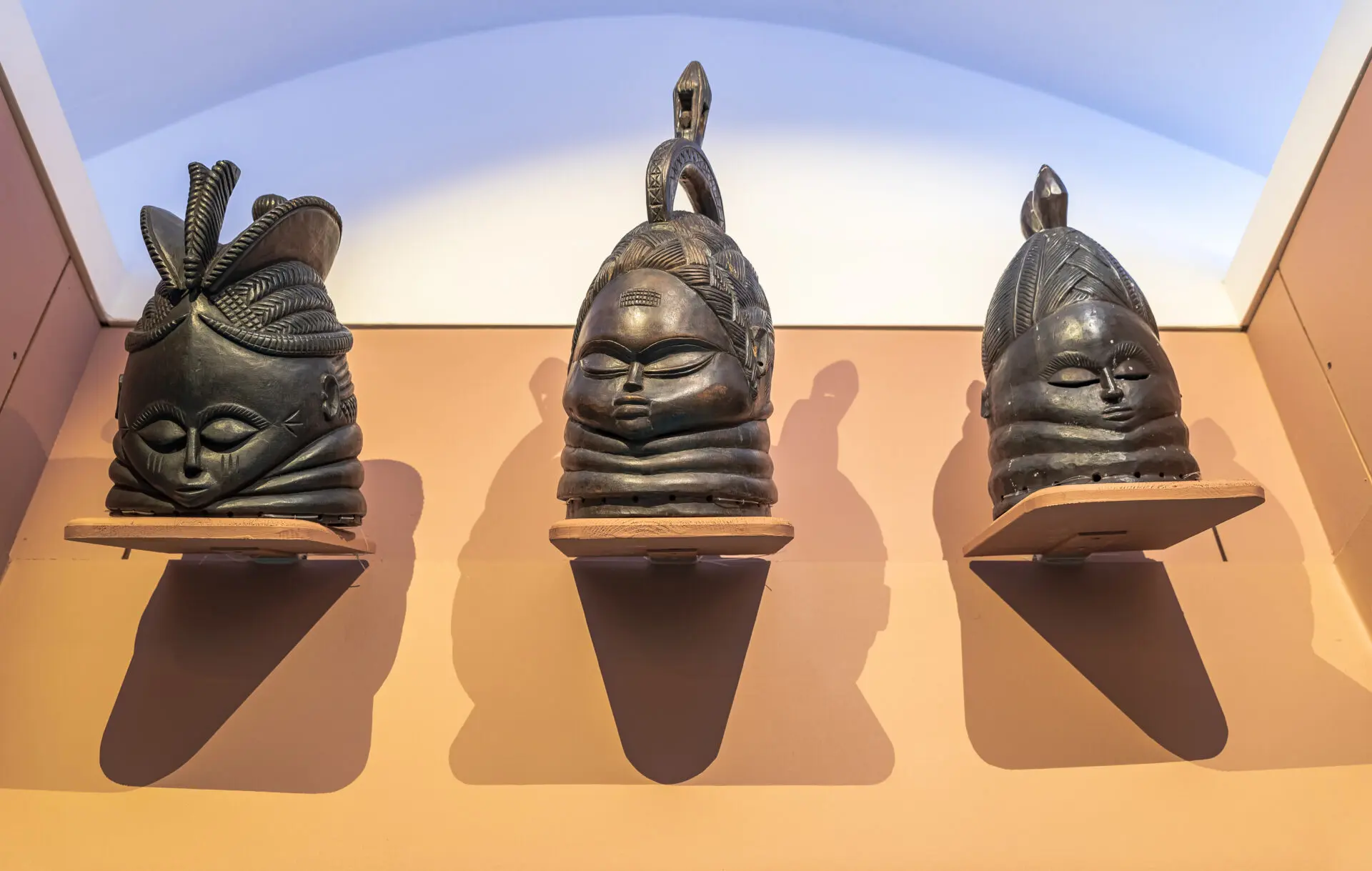 Bundu
Sowei Headpieces of the Sande Society
Throughout the vast continent of Africa, hundreds of wooden masks are danced by over one thousand different peoples in celebrations and for rituals occasions.  Only men, however, are traditionally permitted to engage in these events.  The Mende women of Sierra Leone and Liberia are the sole exception to this rule. Initiation and participation in the Sande Secret Society (also called Bundu today) have historically earned the Mende women the respect, same privileges, political power, economic freedom and equal rights afforded their male counterparts.
With over 50 of these headpieces in our holdings, the museum has one of the largest public collections in the world.  One dozen are on permanent display in the Imperato West African Gallery, and the remaining headpieces are available for loan in a touring exhibition called "Changing Faces."
"Famed Naturalist Stuns With New Fashion Designs"
    "Everybody knows that Osa Johnson is the world's outstanding woman explorer…that she can operate a camera like a professional.  But how many know that Mrs. Johnson was recently named one of the twelve best-dressed women in America?
The Fashion Academy acclaimed her for 'using scientific knowledge of jungle attire in practical everyday fashion.'"
Quote from a NY TIMES Fashion Awards Feature Story, 1939
Photographs From the Travels of Martin and Osa Johnson
This exhibition includes 70 framed photographs, 2 large wall murals, and 20 artifacts that highlight the amazing lives and achievements of Martin and Osa Johnson.
"Masters in the Field" traces the development of lithographic illustration in the 18th and 19th centuries and highlights the adventurous artists of the day. This exhibition was designed by the Martin and Osa Johnson Safari Museum in Chanute, Kansas, using 48 of its spectacular lithograph collection. The Safari Museum has over 600 hand-painted lithographs and a research library that contains 6,000 volumes, many of which contain similar artwork.
The Art of the Masked Dance
The African masked dance is a storied celebration of art at its most evocative. The masked expression, including headdress, dancer, costume, and ritual accessories accompanied by their traditional musical instruments communicate the relationship between the African people, their physical world, and the spiritual realm. "Changing Faces showcases masks from the African continent with comprehensive text to discuss the complete artistry and significance of the masked expression and its traditional role in African culture.
To learn more about these exhibitions and about ways you could bring them to host sites and special events in your communities or our photo museum, please call +1 (620) 431-2730 or email the Martin and Osa Johnson Safari Museum.